Vinyl Siding Cost: Installing or Replacing Siding
This page provides a handy estimating guide to help homeowners estimate the cost of installing vinyl siding on their home
Vinyl siding has bypassed aluminum siding as the most popular siding option for homeowners today. It has many advantages including being attractive, affordable and durable. The range of colors and textures you have to choose from as a homeowner is impressive. Vinyl siding is made from polyvinyl chloride (PVC) which has many uses in the building industry. It is easy for manufacturers to work with and can be installed on just about every home with a minimum of work. It is an ideal material for vinyl siding because it combines durability with flexibility and ease of use.
This guide to vinyl siding costs will provide a complete overview of all the factors that contribute to how much you pay for vinyl siding, so you can evaluate vinyl siding options and the installation costs on your home. You'll learn how different textures, colors and styles of vinyl siding, can have an effect on the price you pay for the material and installation, as well as the pros and cons of vinyl siding, long term maintenance costs, and much more.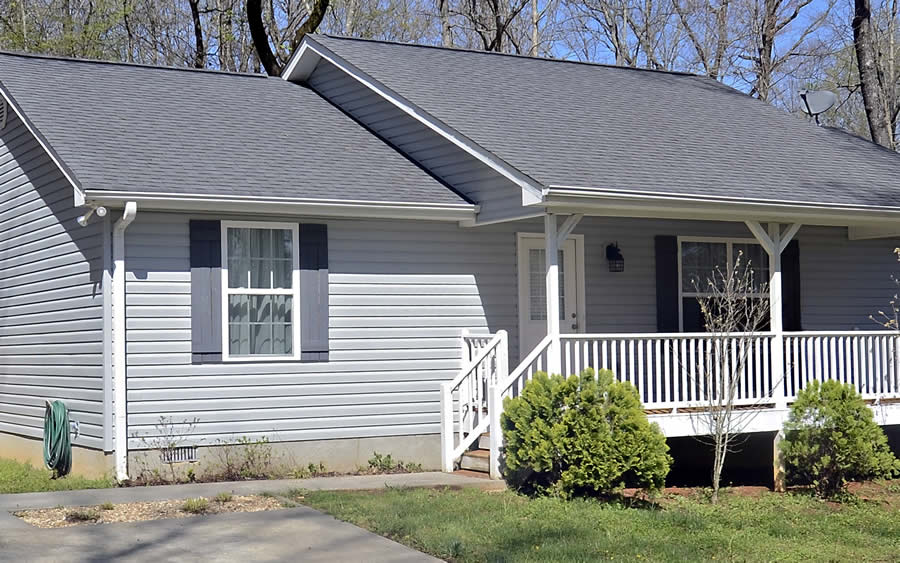 Leading Brands of Vinyl Siding
As the most popular type of siding in the building industry, there are many manufacturers of vinyl siding. The best brands make the widest selection of high quality vinyl siding in terms of styles, colors, grades and trim options. Leading brands include CertainTeed, Georgia Pacific, Alside, Timbercrest, Mastic, Kaycan, Mitten, and many others. Your contractor will discuss the specific brands they recommend for your home, and budget.
Various Types & Textures of Vinyl Siding
Vinyl siding comes in many different styles. Most of them give the appearance of lapped wood and feature woodgrain texture. Your options include double lap, double Dutchlap, triple lap and triple clapboard. These terms mean that each piece of siding has the appearance of 2 or 3 pieces of lapped wood. Common sizes include double 4", double 5", double 6" and triple 3". You'll typically see them called D4 for double 4", D5 for double 5" and so forth. These siding pieces are installed horizontally.
Many manufacturers are now making board & batten siding that is installed vertically. Pieces are typically 7"-9" wide and have the appearance of 1 or 2 boards installed tongue and groove fashion. A third type has the appearance of log siding, which gives it a very rich look. It is installed horizontally of course with similar dimensions to lap siding options. Your choices include the thickness of the vinyl siding as well. Siding is made in thicknesses from .038" to .046". The thicker the siding is, the more durable it will be and the more it will cost.
Believe it or not, the pattern on the vinyl siding you choose will not have too drastic of an effect on the price. Since vinyl siding is made from a a mold, the manufacturing cost is fairly affordable, and those savings are usually passed on to the contractor installing your siding. Installation, on the other hand can be quite a bit more expensive for textured or patterned types of siding, since the contractor has to spend more time on the installation.
Estimate Vinyl Siding Prices
With the different types and quality, prices vary quite a bit. Siding is priced by the square, a square being 100 square feet of siding material. When a contractor speaks to you, they will ask for, or take specific measurements of the length, width and other dimensions of your home, to determine the amount of vinyl siding needed. After you decide on the type, style and color of siding to install, they will provide an exact price for you.
The most affordable vinyl siding costs $65-$85 per square. The most commonly-used vinyl sidings are priced at $90-$125 per square. Premium vinyl siding can cost as much as $225 or more per square. Those are material costs for the siding. The cost of installation labor and accessories such as trim, starter strip and fasteners adds $185 to $300 per square to the cost depending on the products used and the difficulty of installation.
Browse our site to learn more about your vinyl siding options. You might also want to see the Exterior Siding Material Guides page where you can compare today's leading types of siding for your home or business.

Related Expenses During Vinyl Siding Installation
The vinyl siding prices above are for the material and installation. Depending on the condition of the home, additions and repairs might need to be made before new siding is installed.
Adding House Wrap
Weather-resistant barrier is the technical term for house wrap. Many older homes don't have it, but it is required by code. House wrap regulates moisture and can reduce air leaks that cause heating and cooling costs to rise.
Cost to install house wrap: About $1.25 per square foot of exterior wall.
Replacing Rotted Wood
This is another common issue with older homes. Failed siding, caulk or gutters allow moisture where it shouldn't be, and wood rot is the result.
Cost to replace rotted framing for window and door: $375-$650 per frame.
Cost to replace fascia: $6.00-$9.00 per linear foot for wood; 14-$20 per linear foot for aluminum or composite.
Replacing Sheathing
The sheathing beneath vinyl siding must be free of rot, smooth and straight. Any irregularities will show through the siding, significantly marring its appearance. The sheathing must be removed, and framing that is twisted or bulging must be repaired before sheathing is replaced. This can be a time-consuming repair, so quite costly.
Cost to replace house sheathing: $3.75-$6.65 per square foot.
Gable Vent Installation
Many old homes have attics that are not properly ventilated. Heat and moisture build up in the attic, cupping asphalt shingles and causing mold or rot in framing and the roof deck. When siding has been removed, one or more gable vents can be cut. Attractive gable vent covers are available in all vinyl siding series.
Cost to install a gable vent: $45-$100 per vent depending size and the type of cover chosen.
Pros and Cons of Vinyl
There are many advantages to using vinyl siding. It is one of the most affordable options on the market. It comes in a stunning array of colors that span the spectrum. The color permeates the siding so that scratches aren't easily seen. Most have a woodgrain texture resembling sawed cedar. Some brands make a smooth vinyl siding that looks like traditional planed wood.
The heavier grades of vinyl siding are quite durable. It is fairly easy to install once you get comfortable with the process, so DIY installation might be an option for you. Vinyl siding is very low-maintenance. Washing it a couple times a year will keep it looking its best. Warranty length ranges from 20 years to lifetime, depending on the quality of the siding.
Insulated vinyl siding is available from most of the top brands. Each piece has a thin layer of foam insulation applied to the back. The insulation factor is R-3 to R-5. This might be a cost-effective choice for existing homes in cold climates, but for new construction, a better choice is to increase the amount of insulation in the walls.
There are a couple of negatives worth pointing out. The lighter grades of vinyl siding don't always hold up well in windy conditions and can be cheap in quality. They aren't recommended for long-term use and are sometimes chosen by homeowners who want to update their home before putting it on the market.
Secondly, while quality vinyl siding can be very attractive, if you really want the look of authentic wood that cedar siding has, you'll need to select the real thing.
Cleaning Vinyl Siding & Estimated Costs
Vinyl siding cleaning costs range from $.35 to $.80 (35-80 cents) per square foot of siding. Factors that affect the cost to clean vinyl siding are:
Two-story homes cost more to clean than single-story homes with the same amount of siding (+35%)
The more complex the layout of the house, the more it will cost to clean the siding (+10% or more)
Using eco-friendly cleaning products might raise the cost (+10%)
Heavily soiled siding requires more labor to clean, so costs more (+10%-25%)
Who you hire to clean the vinyl siding has a major impact on cost. In order from lowest to highest cost: Unlicensed & non-bonded handyman service/bonded & insured handyman service (+10)/franchise cleaning company (+20%)/company hired by a property management company (+25%)
Hiring an unlicensed and non-bonded service is cheapest, but it puts you at risk for having to pay for the any damage caused to your home by improper cleaning methods. These include using excessive water pressure and damaging siding or poor technique forcing water behind your siding where it can penetrate your home or cause rotting of the framing.
The best way to get professional vinyl siding cleaning at the lowest risk and cost is to hire a licensed and insured service yourself after getting several estimates from companies that know they're competing for the work.
The Vinyl Siding Institute, an industry group, recommends using mild detergent and a soft-bristled brush for cleaning, followed by rinsing the siding with a hose or pressure washer on a setting of 1,500-2,000psi. Applying a detergent solution with the pressure sprayer and then rinsing it with fresh water is an accepted method too.
Before the work is done, make sure that the caulk around windows and doors is firmly in place to prevent water getting where it doesn't belong. Remove obstacles from around the house, and cover delicate plants with painter's plastic held off the plants by sticks.